A few people in our community have had an issue with FPS spikes during the New World closed beta. Our common issue tended to having 1-3FPS in the New World menu while having 50-60%+ GPU usage. This was the case regardless of capped/uncapped FPS limits and graphic presets (ie. low vs ultra).
To potentially fix the issue, download MSI Afterburner from their website: https://www.msi.com/Landing/afterburner/graphics-cards
From there you should have something like the below on stock settings (yours may be different depending on the default skin at time of download):
---
---
From here, you simply need to change your settings and apply them. Tab back into New World and check your FPS. If you can't see what your FPS, you can do so by going into the Settings menu up the top right of the main menu.
Go into the Visual menu and flick the toggle over to "ON" next to the "Show FPS" option. Now you should be able to see your FPS up the top right whenever you're in the window.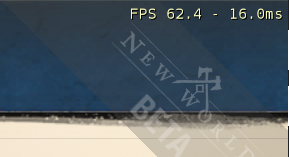 I hope this helps you with your New World FPS issue. Some people reported that this fix worked permanently while for others it was only a temporary fix and they had to continually apply default/edited profiles. Hopefully before the New World launch this issue is fixed.
---
Are you looking for a New World guild? Unreal Aussies is recruiting for our guild on the Australian servers for launch. Join our Discord here: https://discord.gg/yVzrTez56x
Want to learn more about Unreal Aussies? You can check out the About page to learn some of our history and aims or better yet, jump on our Discord and just ask!
Nakid founded Unreal Aussies in 2004. He enjoys gaming, programming, fitness and streaming. He is also the director of Peritum Studios where he makes websites by day. He streams on the uA Twitch every Friday from 4pm AEST.